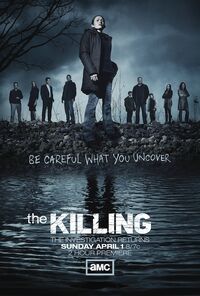 Season 2 of The Killing premiered on April 1st, 2012 on AMC. The TV Series is based on the Danish series Forbrydelsen (The Crime). The series was renewed June 13, 2011 for 13-episode season. The second season begins right where the first season stopped. Detective Sarah Linden continues with her investigation of the Rosie Larsen murder in the midst of an assassination attempt and conflict with Detective Holder.
Image
Title
Season #
Writer(s)
Director
Original airdate
"Reflections"
1
Veena Sud
Agnieszka Holland
April 1, 2012
Detective Linden decides to stay in Seattle when she learns of the Richmond assassination attempt and the doctored Richmond photo. Police arrest Belko Royce for murder and attempted murder while Gwen and Jamie struggle with the reality of the shooting and Richmond's paralysis.
"My Lucky Day"
2
Dawn Prestwich & Nicole Yorkin
Dan Attias
April 1, 2012
Someone tosses Rosie's bloody backpack onto the Larsens' doorstep.

realizes he is in over his head and decides to keep the backpack himself. Meanwhile, Linden learns the truth about Richmond's whereabouts on the night of Rosie's murder.

"Numb"
3
Eliza Clark
Brad Anderson
April 8, 2012
Linden confronts Holder about Rosie's backpack. Richmond contemplates his political future in light of his injuries. Meanwhile, Mitch Larsen returns to Seattle, still struggling to deal with Rosie's death.
"Ogi Jun"
4
Jeremy Doner
Phil Abraham
April 15, 2012
The detectives learn the identity of the bearer of the Ogi Jun manga tattoo; Jamie Wright and Darren Richmond discuss the future of the campaign; and Stan Larsen learns that he is not free of his mob past.
"Ghosts of the Past"
5
Wendy Riss
Ed Bianchi
April 22, 2012
The detectives obtain a voicemail left by Rosie when she was alive. Mitch talks with a girl the same age as Rosie. Darren learns who may have been behind his previous arrest.
"Openings"
6
Aaron Zelman
Kevin Bray
April 29, 2012
The detectives investigate the Larsen family, which leads them to a new suspect. Stan's past still haunts him. Mitch tries to help a runaway girl. Richmond gets a surprise visit from Gwen.
"Keylela"
7
Dan Nowak
Nicole Kassell
May 6, 2012
The investigation focuses on the casino. Richmond's renewed campaign holds a press conference with Stan as a surprise supporter.
"Off the Reservation"
8
Nathaniel Halpern
Veena Sud
May 13, 2012
Sarah frantically searches for her missing partner. Stan meets with several people regarding his reward to find his daughter's killer. Richmond returns to work.
"Sayonara, Hiawatha"
9
Nicole Yorkin & Dawn Prestwich
Phil Abraham
May 20, 2012
Sarah obtains Rosie's keys, which allow access to the casino's tenth floor. Stan learns of son Tommy's bad behavior at school. Mitch meets Rosie's biological father David Rainer. Richmond asks casino owner Nicole Jackson to assist the police.
"72 Hours"
10
Eliza Clark
Nicole Kassell
May 27, 2012
Linden finds herself in a psychiatric ward, while Holder continues the investigation. Stan attempts to repair the damage his past actions have caused. Richmond returns to the Seattle All Stars basketball program.
"Bulldog"
11
Jeremy Doner
Ed Bianchi
June 3, 2012
The detectives gain access to the casino's tenth floor, which only causes them to elude the police. Both Stan and Richmond make decisions that affect their futures.
"Donnie or Marie"
12
Aaron Zelman & Wendy Riss
Keith Gordon
June 10, 2012
The detectives look to Richmond's campaign staff for suspects, while he gets ready for the election. Mitch and Stan Larsen try to get their family back to normal.
"What I Know"
13
Veena Sud & Dan Nowak
Patty Jenkins
June 17, 2012
The detectives close the Rosie Larsen case, arresting the person responsible; the Larsen family prepares to leave their former home, but not before learning a family member was involved in Rosie's death; and Darren Richmond becomes Seattle mayor only to learn that campaign manager Jamie Wright was involved in Rosie's death.